The museum is open Wed, Sat, Sun 12–17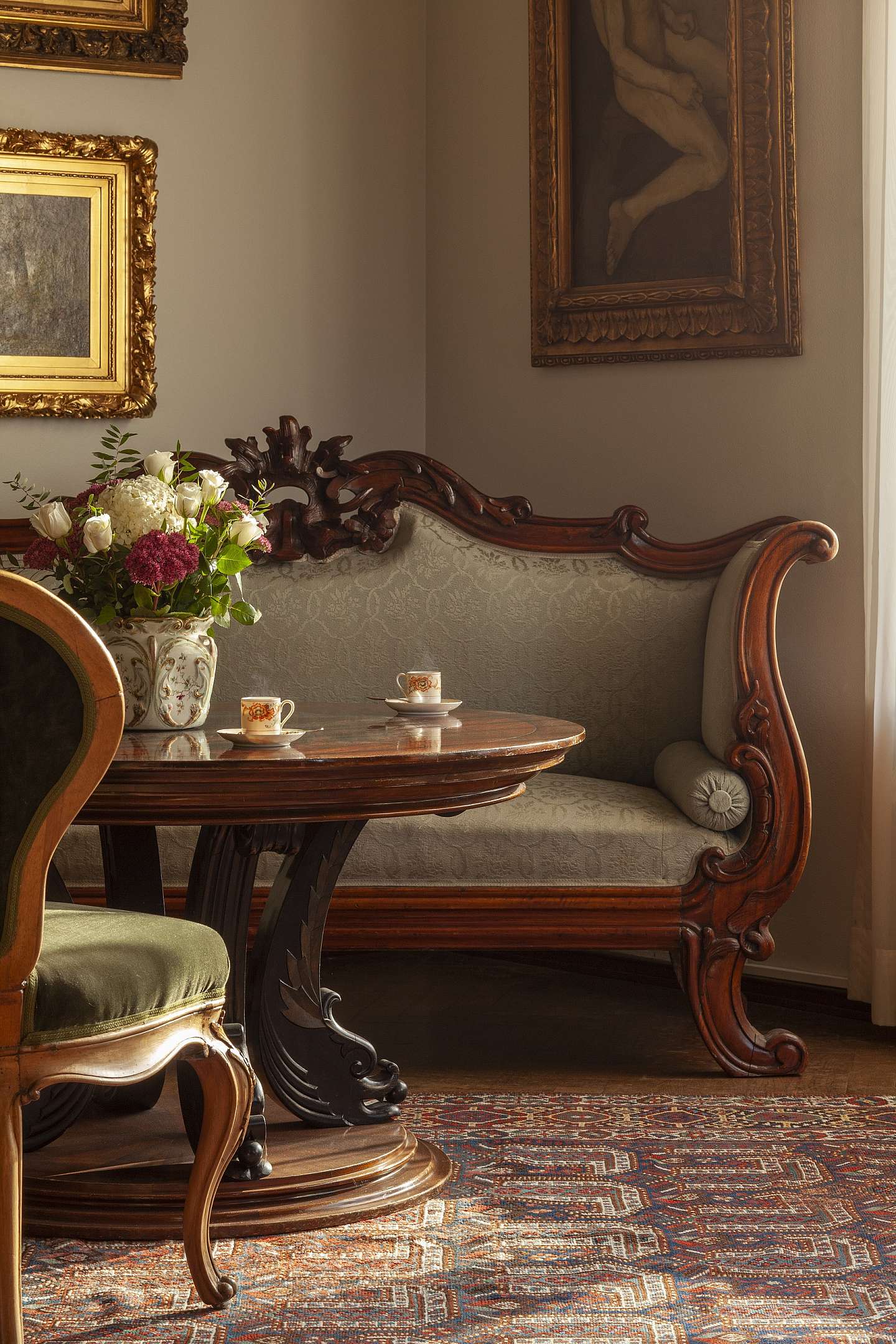 Spirit of the Times. Collection Ane Gyllenberg 15.10.2022–26.3.2023
Spirit of the Times. Collection Ane Gyllenberg tells the story of how an art collection was created and the concurrent changes in society, art and culture that it reflects. To what extent does the spirit of the times influence how we decorate and what kind of art we like?
The exhibition examines the collection and the interior of Villa Gyllenberg within the context of the style ideals of their times, thereby shedding light on three specific eras and phenomena. Visitors will get to experience a luxurious interior with antiques, old paintings, and religious objects from the 1930s. In the 1940s and 1950s there was a need to create a narrative about Finnish art and culture, which also reflects on the Gyllenberg Collection. However, Ane Gyllenberg also collected art by internationally oriented women artists. The 1960s was the breakthrough of modernism in interior decoration and art. The collection was complemented with e.g. Finnish graphic art and large oil paintings by Juhani Linnovaara.
At the home museum at Villa Gyllenberg, visitors will have a chance to enter the home of the Gyllenbergs and experience the atmosphere of a mid-20th century bourgeois home, including aspects of both everyday life and special occasions. Villa Gyllenberg's collection and home with all the objects form a holistic work of art created by Ane and Signe Gyllenberg. The couple lived in the house from 1938 to 1977. The works of art and objects reflect the interests of their owners, as well as the fashion and lifestyle of the elite during the mid-1900s.
Of the two spouses, Ane was the more avid collector and acquired most of the artwork. He collected all the way from the late 1910s to the 1970s. Some pieces were acquired after careful consideration with the help of antique and art dealers, some on a whim, and some were received as inheritance or gifts. Helene Schjerfbeck was Ane Gyllenberg's favourite artist and 39 works of art by the artist are included in the collection. Signe and Ane Gyllenberg Foundation still makes new acquisitions to the collection. The art collection comprises over 400 works, and the collection of objects more than 1000 items.
The publication Villa Gyllenberg – Koti Kuusisaaressa (FI) / Villa Gyllenberg – Ett hem på Granö (SWE) (2021) gives further information about the villa's life, interiors, and furniture. The book has been written by Lassi Patokorpi and has been published in Finnish and Swedish in co-operation with Parvs Publishing Company.
Exhibition planning: Lotta Nylund, Siiri Oinonen, Lassi Patokorpi, Mikko Välimäki.
The museum is open Wed, Sat, Sun 12-17. Read more about admission and opening hours.